A Letter to the City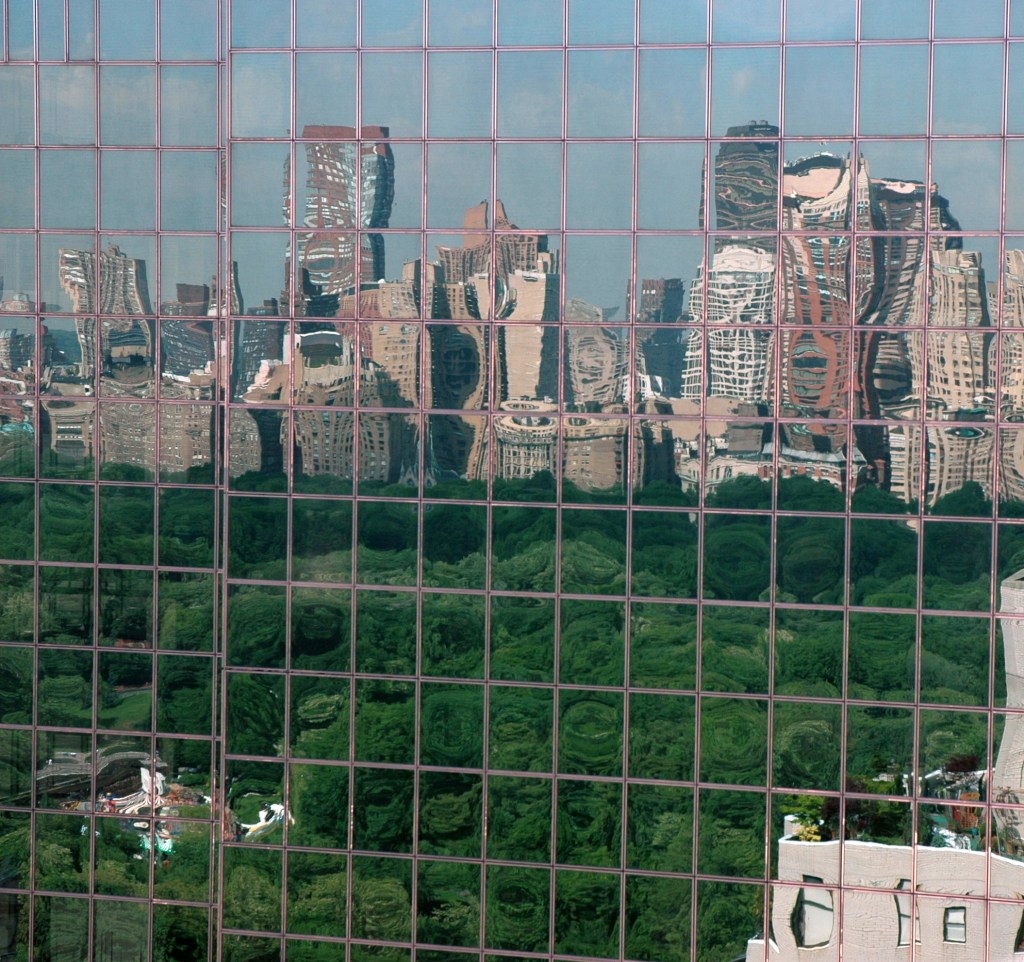 I love New York.
The Brooklyn Bridge is my favorite place in the world. When it was completed in 1883, it was the tallest structure in the city.
I taught high school in Crown Heights during the riot years.
My friend, Elaine, was my supervisor back then and we once walked from Soho to Coney Island. She died unexpectedly a couple years ago, way too young, so my wife and I took the SFO redeye to JFK where I told Elaine's friends and family about our walk, and that for me Elaine was New York City.
I never get bored on the Circle Line.
The subway is my happy place. I love knowing the lower level of the West Fourth Street Station is still going to hold the summer's humidity in October, and that at the top of the stairs I'll be sweating more than the dudes playing hoops on Sixth.
My first day as a teacher was as a substitute for a Physics teacher who had been stabbed with a pencil trying to take away a student's Walkman.
After college, my dad and me were flying to my new life in NY so he could help me find an apartment, and on the way, I said, "You know, when I think about it, during the past few years, when I'd go to visit my friends on the east coast, it was usually in Boston or Cambridge. Maybe I should live in Boston?" My dad said, "Vait. You mean you're dragging me across the country and you don't even vant to live in this city?"
"No, New York will work."
The last time I was near the World Trade Center, a guy was selling peelers on the sidewalk. I bought one. I haven't been back to that spot since. Can't do it after 9/11. I know, I know. The memorial is well done. But I can't.
I probably looked at 25 apartments. The broker was walking the long way to each. My dad said, "You know he's walking these veird routes so vee only see the nice blocks?" I knew. We didn't mind.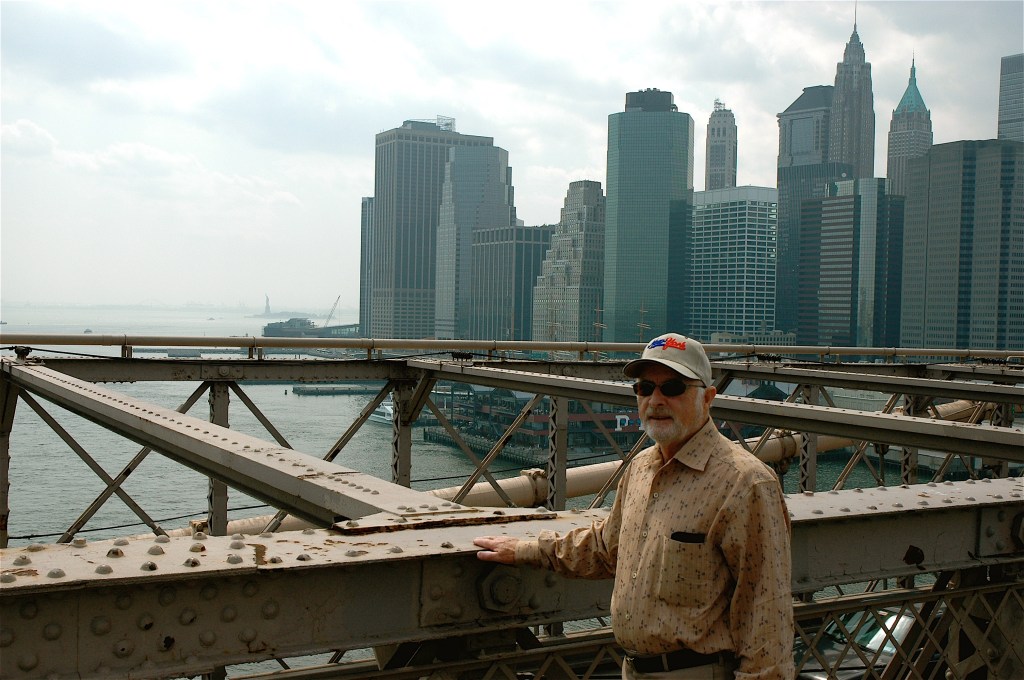 In one building, the elevator was about 104 degrees. The super said it was the boiler in the basement. My dad asked, "Vhat are you doing down there, burning bodies?" The super didn't laugh.
Finally an apartment found me. The landlady who lived on the main floor picked me for the upstairs unit because she was impressed my dad came for our "interview." My landlady was an NYC lifer. After a half hour of instruction, I knew everything I needed to know.
I lived above an off-Broadway theater on Vandam. When I'd walk into my front door around show time, I'd get yelled at for cutting the line.
You know that feeling a pigeon is going to fly right into you, but it never does? One's wing hit me in Washington Square Park. I still remembered the feeling a few decades later when my son was getting a chess lesson on a concrete table from a guy who was probably there the day I was winged. He charged me twenty for the lesson. I gave him forty. Bargain.
When I was young, and emotional, I wrote a poem called Window Seat at Fanelli. Every time I go to NYC, I take a photo of the last original spot in Soho and send it to my friend, Mordy.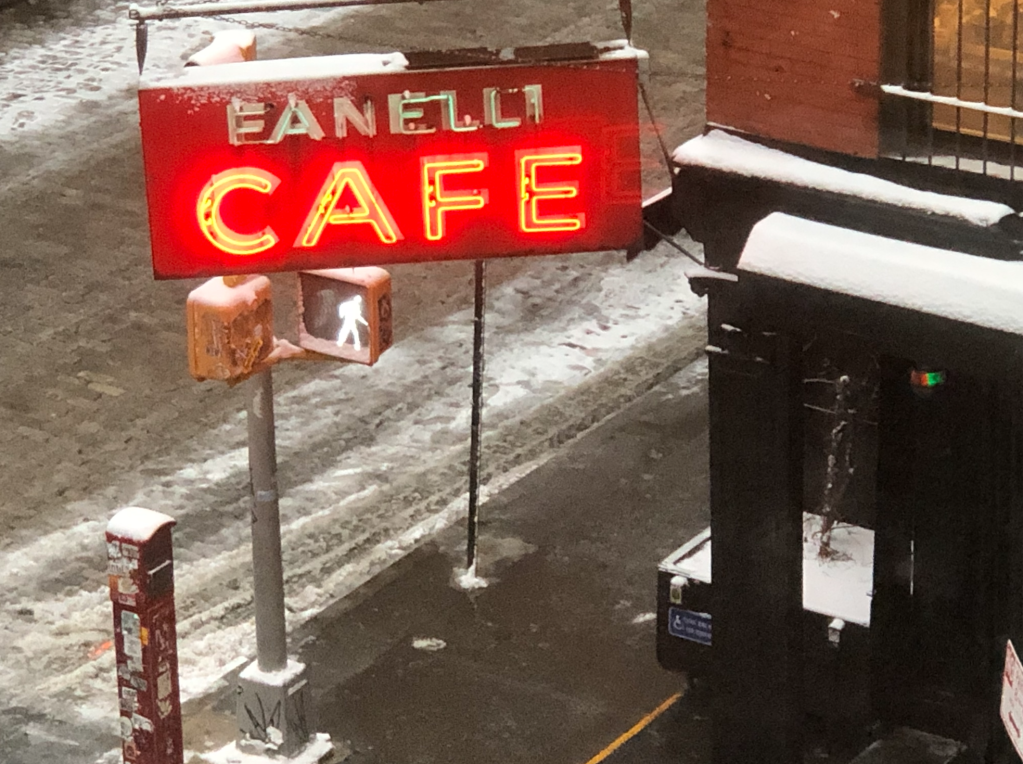 During my first weeks in NYC, there was a telephone strike. I didn't know a single person. My best friend was the city, and I'd walk for hours a day. I never asked myself, Are we there yet. I knew I was there, so I kept walking.
I was calling my parents from a payphone on Spring near Sixth when Madonna, along with her entourage, walked over and dialed the phone next to mine. I hung up with my parents and called a friend back home. "Oh it probably just looks like her," he said. This was '89. She was arguably the most recognizable artist in the world. I should have stayed on the line with my parents.
When you walked back then, without a smartphone, you didn't have your entire world in your pocket. It's like Springsteen sang, "When I'm out on the streets, I walk the way I wanna walk."
I was New York Dave. Aside from the city, no one else but me even knows that guy.
My friend Daniel and I used to go to Raoul's in Soho wearing undershirts and baseball caps. We looked so out of place, they figured we must be someone. We'd talk a little too loud, referring to famous actors and directors by their first names, and they seemed to buy it. We'd just order a beer and ask for a basket of bread. And they gave it to us and let us keep the table as long as we wanted. You had to know Raoul's in the early 90s to know what we were pulling off. Right before the pandemic, I was in Soho eating a late night second dinner at Raoul's with my wife and son. I told the story. By then my friend Daniel had become a successful television producer. The town is no more his town now than it was our town then. In New York City, there's only one star, only one power player worth a damn: The city itself.
You walk for an hour in New York and you'll hear twenty languages and visit several different countries. There are some people who see that as a problem. They don't know what America is all about.
I saw Bogosian doing his one man show, Sex, Drugs, and Rock n Roll and Anna Deavere Smith recreating the riots in her one woman show, Fires in the Mirror. You'd leave the theater and the show would still be going on out in the streets.
I once had a former student hide a bottle of champagne, and some other items in a garbage can on the Brooklyn Heights Promenade so I could surprise my wife (then girlfriend) on Valentine's Day. It was snowing and freezing, but somehow I convinced her to walk the promenade with me. She was surprised. I had a tape recorder in the bag and we listened to Rhapsody in Blue and drank the champagne. When we kissed, a guy passed by on cross country skies. Like I said, it was pretty cold. A few years later, I proposed in the same spot.
A few years after that, my wife and I went to Brooklyn so I could walk that student down the aisle.
I saw the play Fences on Broadway, and when James Earl Jones threw a bag down on the floor, some hay landed on my lap. Beat that.
A colleague of mine was once beaten to a pulp jogging in Prospect Park on Halloween (yes, he knew it was crazy). He showed up to school to teach the next day. Best teacher I've ever seen. He once threw a chair out a window from his fifth floor classroom. And it worked. Our mock trial team kicked ass and no one ever told the principal who broke the window.
Some mornings I'd be hungry for a bagel. So I'd walk a hundred and twenty blocks and get one near Columbia.
I watched a Super Bowl in a guy named Vito's basement in Bay Ridge. I did Jello Shots out of a disposable tin pan, and on the way back, with a pretty good buzz, I stood at the very front of the subway and looked out the forward-facing window the whole way. It was my team, the 49ers, in the game. But this was my town.
It's a feeling. It's instantaneous and evergreen. Some people say you have to live in New York for ten years to be a New Yorker. Shit, it took me ten seconds.
I once saw Lou Reed play Dirty Boulevard during a rehearsal in Letterman's studio. When I say New York, I know what the fuck I'm  talking about.
In 1990, I got out of the subway on 125th to hear Mandela speak. It was the first time I'd ever really been aware of my skin. I could feel it. I was changed before Mandela took the mic. I felt my skin again the first day of teaching when the kids found out I was the sub, and one of them called me "Snowflake" before he and three quarters of the class took off.
After 15 minutes trying to make conversation with that Physics class, I scribbled a note to god promising that if I made it through that day, I'd leave teaching, NYC, and the greater Tri-State area forever. I made it through the day. But I didn't leave.
God understood. He knows New York too.
On weekends, I used to take a group of students to Manhattan for different outings — a Broadway show, ice skating, a museum. It all started when I brought a few of them to see the Thanksgiving Day Parade and half of them were scared shitless walking through Central Park. These kids went to a bottom five high school with metal detectors and security guards and they were scared in Central Park.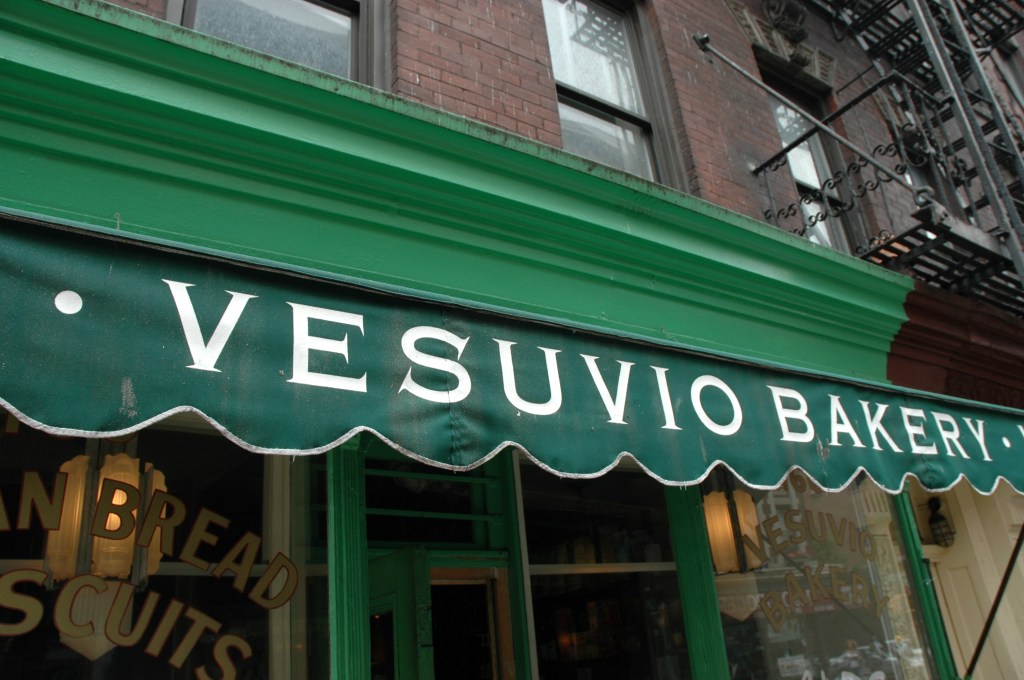 Vesuvio Bakery is one of the most famous photo opts in the world. The bread was never that good. Anywhere else, that would be a disaster. On Prince Street, it sort of made sense.
One of my former students was an immigrant from Haiti who slept on the floor of her family's studio apartment. Today, she's the dean of a law school.
My dad and I once took the Trump helicopter to the Trump Plaza in Jersey. In the elevator my dad said, "You can smell food cooking in the kitchen from here. That means they cut corners and didn't build this place right." The House always wins, with one exception, and we left with a few grand more than we came with. The helicopter service and the casino are both out of business now. And the former owner of both is no longer a New Yorker.
The school where I taught didn't have enough books for some of my English classes, so I'd buy them myself. This was before Amazon, so that meant walking to about six or seven bookstores to get enough copies. Is there a better way to spend a day?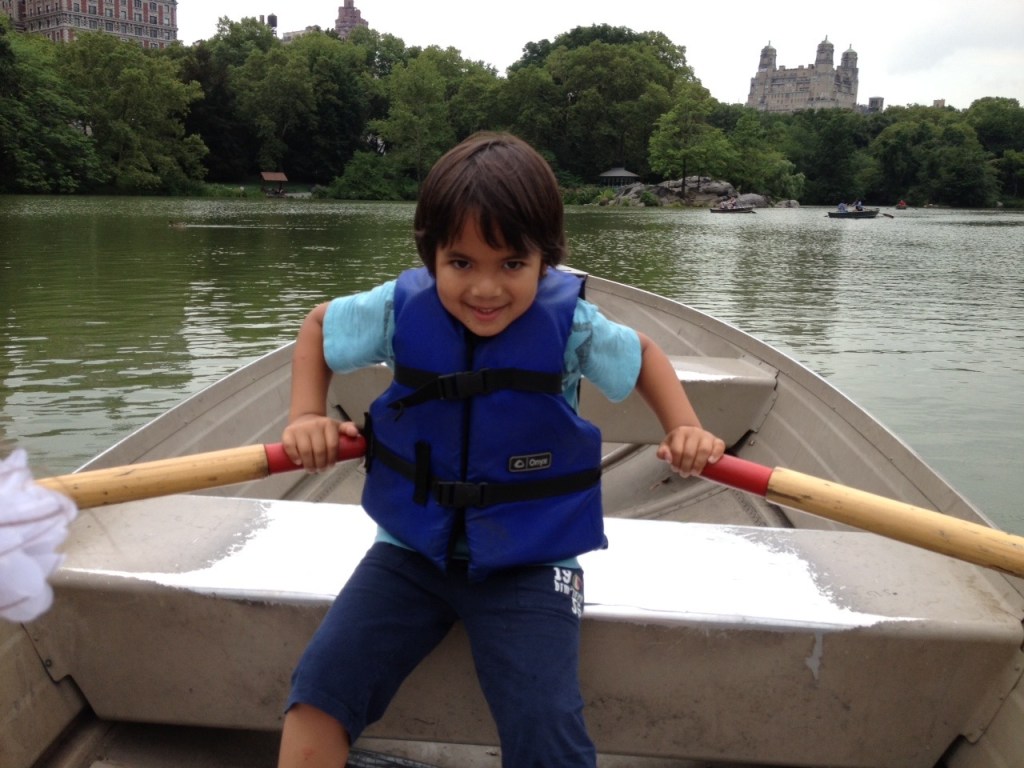 When he was too small to do so, my son rowed me in a boat in Central Park. It was amazing. These days, when we're in the city, me and him head to the Lower East side and eat pickles, knishes, and bialys like I did when I was young and alone. He's never called it the LES.
During my formative years, New York City was the best friend I had. Now it knows my wife and kids, and an older, grayer me who walks a little slower … but still pretty fast when I'm on those streets.
I'm across the country, but my arms are virtually locked around the Apple. My old friend is hurting. My friend is running out of air. I want New York to live, to thrive, and I want all those people off the gurneys in hospital hallways, out of their apartments, and back walking the greatest streets in the world.
I love New York.
Dave Pell Writes NextDraft, the Day's Most Fascinating News. Tap on the head below to get the free newsletter or app. Please wear a rubber glove…